DIESELS
Following are pictures of the types of Diesels made in American Flyer "HO" Gauge.
All American Flyer "HO" Diesel shells were plastic.
Most were made in several different road names.
They are for informational purposes only.
For Prices of AMERICAN FLYER TRAINS for SALE LISTING
The following are pictures of Gilbert American Flyer HO Diesels.


GM DIESEL A UNIT
Road names for Alco Units include: Northern Pacific, Missouri Pacific, Southern Pacific, Baltimore and Ohio, M & St. L, Santa Fe, Chesapeake & Ohio, Lackawanna
Model numbers for powered A units include: 420, 421, 423, 31007, 31010, 31014, 31032, 31037, 31039
Model numbers for dummy A units include: 422, 424, 31009, 31012, 31038


GM DIESEL B UNIT
Road names include: Northern Pacific, Missouri Pacific, Baltimore and Ohio
Model numbers include: 425, 426, 427, 31008, 31011


ALCO ROAD SWITCHER
Road names include: Alco, Chesapeake & Ohio
Model numbers include: 430, 31003, 31017, 31022, 31025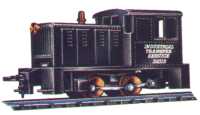 INDUSTRIAL SWITCHER
Metal Boiler.
Includes model numbers 31013, 31021