RAILROADING SUPPLIES
For ALL MODEL TRAINS

For American Flyer Track and other Equipment.
---
SMOKE FLUID
THIS IS THE REAL STUFF!
Just like the original!!!!!


This is the original A. F. formula smoke fluid.
It's the best fluid you can use in all
liquid smoke units as it won't clog the wick.
Big 2 oz. bottle produces rich smoke in seconds.
With the CEDAR AROMA that brings back
memories. Don't be fooled by imitation fluids,
that claim to be "similar".
1115 SMOKE FLUID 2 oz $15.99

K2514 SMOKE KIT - Kit contains Funnel,
Stack Cleaner plus Instructions $10.99

Smoke Cleaning Kit All Kits are supplied with Instructions.
Now you can get all your steam engines smoking just like new.
K2532 Kit to clean the smoke box residue,
used on All Smoke Units. Restores
smoke out put on units that are
cloged or dried out. $13.99

K61D XA10527 Wick w/wire coil kit for Boiler
Units & Smoke in Tender. Contains wick
and wire coil, plus instructions for
replacing wick and coil assembly. 12.99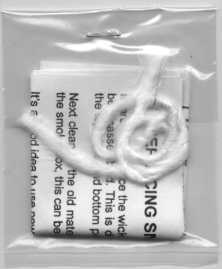 K2531   Smoke In Tender Motor Service Kit-
          Brushes, Cleaner, Oil Wick         9.95

2530KIT Bellows Unit Repair Kit- Bellows,
                         Glue + Instructions 16.99

   1610 Smoke in Tender Bellows Tool        32.99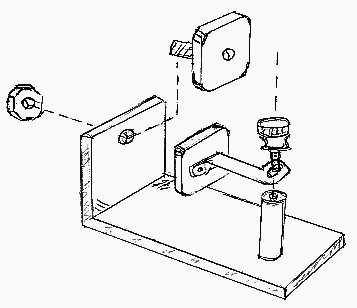 K2530D Kit containing all parts and instructions
        to rebuild smoke in tender smoke box.
        Wick with Wire Coil, all gaskets, plates,
        insulator, eyelets and terminals.   30.50

 K2530  Complete Smoke In Tender Overhaul Kit-
        Contains all parts to replace bellows
        plus parts to rebuild smoke box, also
        contains motor service parts, cleaning
        fluid, applicator and instructions. 38.00

See even more smoke unit parts on the Steam Parts Page. 
---
APPEARANCE CLEANING KIT

ALL NEW Appearance Cleaning Kit.
Want to make all your American Flyer equipment look like NEW?
This is the kit to do it.
Not only do you get all the supplies, but a comprehensive booklet.
You will be able to clean all your equipment safely.
Kit Contents:
Low Detergent Cleaner concentrate
Plastic Cleaning Solution
Cleaning Cloth
Cleaning Brush
Booklet "Cleaning American Flyer Trains"

K1161 ALL NEW! Cleaning KIT $19.95
---
BRAND NEW HIGH TECH OIL
in a PEN OILER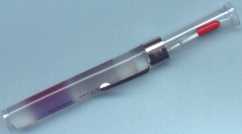 A new High Tech oil in a convenient pen oiler.
This oil can be used almost anywhere.
The high viscosity, allows it to coat and stick to surfaces.

1117A ALL NEW! PEN OILER $9.95
---
COMPLETE SERVICE KIT
Keep your trains running and in tip top shape with these specially
formulated cleaners and lubricants.
The kit also contains the maintenance tools you'll need to do most jobs.
Also included in the kit is a reprint of the American Flyer Service Kit Manual.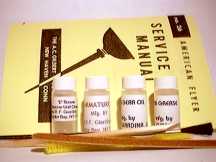 Contents:
OIL
ARMATURE CLEANER
TRACK CLEANER
GREASE
Tools:
Tube Cleaner
Cleaning Brush
Commutator Stick
Sanding Stick

1160 SERVICE KIT $19.95

---
TRACK CLEANER
Keep your track sparkling with this specially
formulated cleaner. Customers tell us it's the
best track cleaner they've ever used.
1114 TRACK CLEANER 2 oz $15.99

---
SUPER - LUBRICATING OIL
The slick one - prevent early wear and tear
and costly repair.
1116 SUPER OIL 2 oz $8.50

---
GEAR OIL
A high viscosity oil, specifically designed for gears.
Will cling to gear teeth surfaces. 2 oz
1116G GEAR OIL $8.50

---
LIGHT OIL
Very low viscosity oil, for lubricating moving parts, such as valve gear. 2 oz
1116LT LIGHT OIL $8.50

---
MEDIUM DUTY OIL
Best oil to use on motor bearings. 2 oz
1116MD MEDIUM DUTY OIL $8.50

---
OILER with OIL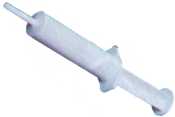 High quality non-gumming instrument oil.
In a Tube oil feeder to reach tight spaces.
1117 OILER $9.50

---
PLASTIC no mess COAL
For coal loader & dump cars.
1112 Coal $5.00

---
SCRAP METAL
For Electro Crane.
1113 Scrap metal $12.99

---
WINDOW ADHESIVE
The perfect solution for attaching
accessory or car windows.
1131 Window Adhesive $6.99

---
GREASE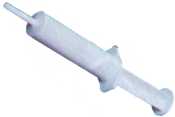 Original quality and the proper type,
for all model trains.
1118 Grease $8.95

---
"E" RENEW
Special cleaner and lubricant for
American Flyer & Lionel reverse units.
Stop sticking and poor finger contact.
1149 "E" RENEW 2 oz. $9.95

---
PLASTIC CLEANER
Clean and restore all plastic parts. Safely
remove grime & oxidation, (white residue).
1111 PLASTIC CLEANER 2 oz. $12.95

---
HEAVY DUTY PLASTIC CLEANER
1111HD HEAVY DUTY PLASTIC CLEANER $12.95
Strong cleaner and polish for though jobs. 2 oz.

---
METAL CLEANER
1147 METAL CLEANER 2 oz. $7.95
Concentrated cleaner. Use before Metal Black for best results.

---
METAL PRESERVATIVE
1148 METAL PRESERVATIVE 2 oz. $10.95
Helps prevent rust, and used to deepen the black of Metal Black.

---
SERVICE MANUAL
M3013 Service Kit Manual 12pg. $5.00
Reprint of the Gilbert No. 26 Service Kit Manual,
with detailed instructions on American Flyer Train maintenance.

---
DRY GRAPHITE
Dry Graphite is a superb lubricant, and helps
reduce friction.
1145 DRY GRAPHITE $4.50

---
COTTON CLEANING CLOTHS
Soft cotton cloths for use with Plastic Cleaner
Track Cleaner or any clean ups.
1144 COTTON CLEANING CLOTHS 4/$2.00

---
METAL BLACK KIT
Concentrate mixes 10 to 1, makes 20 oz. of ferrous metal blackener. Kit also contains Metal Cleaner, Metal Preservative and instructions.
1146KIT METAL BLACK KIT $24.95
---
1156 ARMATURE CLEANING FLUID $11.95
Specially formulated cleaner to clean armature commutators without danger of damaging the wire insulation.
---
1114KIT TRACK MAINTENANCE KIT $19.99
Kit contains Track Cleaning Fluid plus sanding stick, Cleaning Cloth, Abrasive Cleaner, Metal Preservative and instructions.
---
EXTRA TOOLS
1156CB CLEANING BRUSH 2/$1.50

1156SS SANDING STICKS 2/$1.50

1156CS COMMUTATOR STICK 2/$1.50

1156TC TUBE CLEANERS 5/$1.00
---
1157 COTTON TIPPED APPLICATORS 5/$1.00
6" long, wood handle cotton tipped applicator.
Use for cleaning or applying lubricants in tight spaces.
---
1153 GLUE for BELLOWS UNIT $2.50
Special Glue for attaching bellows material in American Flyer Smoke
in Tender units. Used for both "S" and "HO".

---
2530KIT BELLOWS UNIT KIT $5.95
Kit for repairing American Flyer Smoke in Tender units.
Kit contains 1 #2530 Bellows, 1 bottle 1153 Glue and instructions.

---
SCENIC SUPPLIES
1100 Dark Grass $2.00
1101 Light Grass $2.00
1102 Dark Earth $2.00
1103 Light Earth $2.00

---
Please order by RFG part number.
Items must be ordered in the multiples listed.
Quantity = Actual number of parts.
Example: An item listed as 2/1.00, the Quantity = 2

TRACK SUPPLIES
1119 Track nails-S,O,O27 1 oz. $2.00
1140 American Flyer "S" Steel pins 12/5.00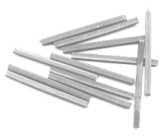 INSULATORS
1130 Fiber Pins Am Flyer,Gargraves,Super "0" 4/6.99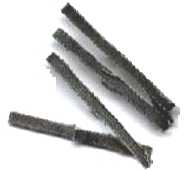 1141 Pikemaster Insulators 4/6.99
1142 Insulator Pin Lionel "0" 12/1.00
1143 Insulator Pin Lionel "0-27" 12/1.00

---
POWER TERMINALS
690 American Flyer Track Clip Kit w/wire & instructions $9.99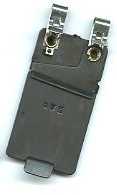 707 American Flyer Track Clip- single contact $9.99



696 American Flyer - TRACK TRIP $19.95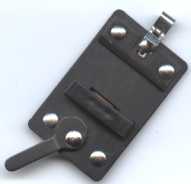 ---
WOOD TIES
Real wood ties to fill those spaces between
track ties - LOOKS GREAT!!
1120 American Flyer 50 pcs. -black $14.00
1121A Lionel "O" 50 pcs. -black $14.00
1121B Lionel "O-27" 50 pcs. -brown $14.00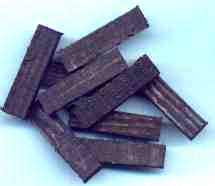 ---