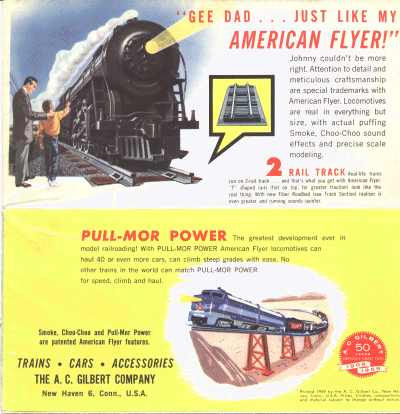 American Flyer boasted Two Rail Track, 3/16 inch scale and Pull-Mor Power , all aimed at it's biggest rival and competitor, Lionel.

That rivalry, that began even before "S" Gauge was introduced, lasts to this day among collectors.

Today American Flyer Trains are produced by Lionel.

RFGCO.com, produces parts, supplies, reproductions and other items, that can be used with American Flyer. RFG Original Quality Parts are manufactured in it's own facility. RFG parts, reproductions and supplies are regarded as the best.

Compatible Engines, cars and other rolling stock are produced by companies like American Models. Recently MTH has begun reproducing several American Flyer accessories. While American Flyer Trains were only toys in the 1940-1960's, today they are regarded as collectibles,ONLINE AMERICAN FLYER TRAINS "S" PRICE VALUE GUIDE.Many model railroaders, model in "S" Scale, which has it's foundations in American Flyer.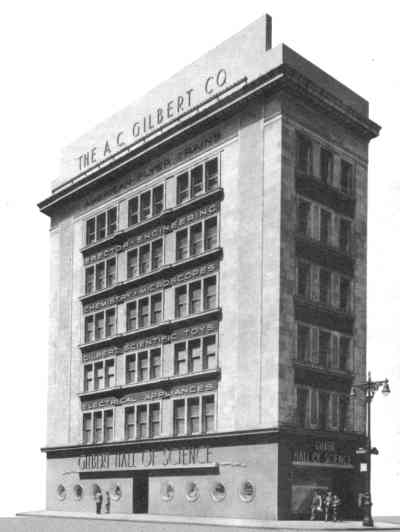 The A.C. Gilbert Co. maintained factories in New Haven and Branford Connecticut along with their famed Gilbert Hall of Science, in New York City. Other cites such as Chicago and Washington, D.C., also had Halls of Science.

The New York Hall of Science, pictured here, had a massive American Flyer Train layout on the main floor along with displays of Erector and Science toys. On the second floor was another train layout not open to the public, it was reserved for salesmen, buyers and selected guests. Work shops and offices occupied the remaining floors. All the Halls of Science had been closed by 1966.

Gilbert in its hay day was one of the largest, best known and respected toy makers. It was also the largest manufacturer of fractional horsepower motors, holding the patent for enameled wire.

In 2003, a TV movie, "The Man Who Saved Christmas", was loosely based on the life of A.C. Gilbert, his development of Erector sets and his work to continue making toys during World War I.

See The GILBERT HALL OF SCIENCE today!
---
While the American Flyer line was never as extensive as that of Lionel, it always offered realism and some interesting accessories. Many of those accessories are in high demand today, and are used by Lionel operators as well.
Gilbert also offered unique special features like synchronized Smoke and Choo Choo Sounds. Recently, Lionel has begun reintroducing several of those accessories.



---

RFG offersAmerican Flyer SMOKE FLUID Formulated for AF Smoke Units.
Won't CLOG SMOKE UNITS!
This is the REAL Stuff, not an Imitation or "SMELL ALIKE !"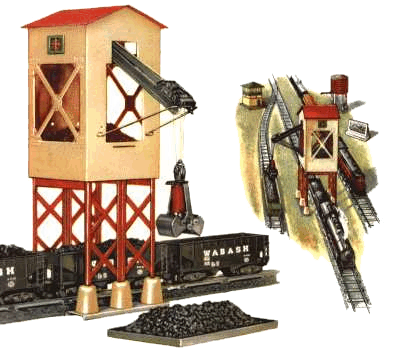 ---
SOME OTHER GILBERT PRODUCTS
Gilbert also produced many other toys, science sets, Polar Cub appliances, Puzzle Sets, Mysto Magic Sets,
Chemistry Sets, Physics Sets, James Bond Sets, My Favorite Martian and many others.
As one of the premier toy manufacturers, with their most famous toy set, Erector, Gilbert was known around the world.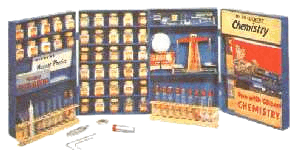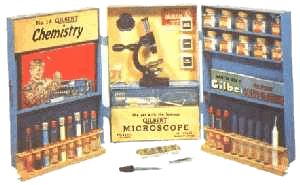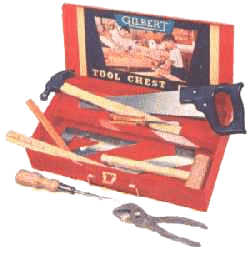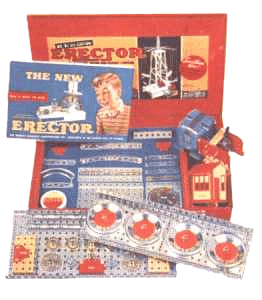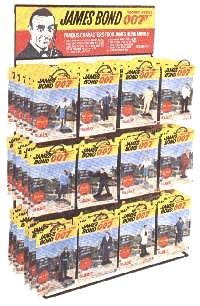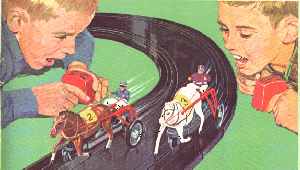 MORE PICTURES of GILBERT TOYS
MORE PICTURES of GILBERT

PICTURES of GILBERT LITERATURE
PICTURES of GILBERT COMIC BOOKS
PICTURES of GILBERT ADS
PICTURES of GILBERT ART
GILBERT CATALOGS
PICTURES of GILBERT PRODUCTS
---
Other resources and information include:
Classic Toy Trains magazine, Greenberg Publishing Co.

If you need any help or have questions, check the FAQ's page.

American Flyer Trains